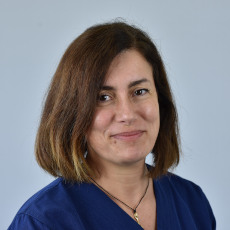 Elena Gardella
Dept of Clinical Neurophysiology, Danish Epilepsy Centre Filadelfia
Elena Gardella, MD, Ph.D., is an Italian neurologist and clinical neurophysiologist with more than 20 years of expertise in the field of research, diagnosis, and treatment of complex epilepsies. Currently, she is associate professor at the University of Southern Denmark, working at the Department of Clinical Neurophysiology and at the department of Epilepsy Genetics and Personalized Medicine at the Danish Epilepsy Centre "Filadelfia", Dianalund (DK).
The principal aim of her research is the deep phenotyping of newly discovered genetic epilepsies, bridging the gap between gene discovery and the clinical practice, and putting the basis for personalized counseling and targeted treatment including new treatment options.
The clinical genetic team at the Danish Epilepsy center has a special interest in voltage-gated sodium channelopathies, including SCN1A / SCN2A / SCN8A. The elective field of research of Elena Gardella is SCN8A-epilepsy and related disorders.
Elena Gardella is a board member of the Danish chapter of the ILAE, a member of the ILAE and part of the Italian chapter of the ILAE, a member of the American Epilepsy Society, and a member of EpiCARE, the European Reference Network for rare and complex epilepsies.
Video from this speaker: